New Lawn Installation Services
By Provost Companies
New Lawn Installation Services
Creating healthy, long-lasting lawns in Massachusetts
When it comes to installing a new lawn at your home or business, it's important to choose an experienced lawn installation company. Whether it be loam and seed, or a sod installation, the landscape construction teams at Provost Companies have what it takes to create a healthy, long-lasting lawn.
Our new lawn installation process, combined with routine maintenance and care is the best way to ensure a healthy lawn all season long, season after season.
Which type of new lawn is best for you?
Sod Installations
Sod is the most common application for installing a new lawn, especially for those who are installing a new lawn after a new home has been built or extensive renovations have been done around the property. Installing sod gives that instant gratification of a new green lawn. Sod also has some other advantages such as the ability to plant during times of the year that may be less than suitable for seed germination, and because it already has an established root system sod can help to prevent problematic weeds from working their way into your lawn. Although it is the preferred method for installing a new lawn, sod installations are more costly than spreading loam and seed.
Loam and Seed
A loam and seed lawn installation refers to the spreading of new soil (loam) and grass seed to establish your new lawn. Some of the advantages of using seed to start your new lawn are that you can select the type of seed you may want for certain areas depending on soil composition, amount of sunlight, amount of foot traffic etc. Also installing your new lawn through the spreading of loam and seed is less costly than installing sod. However, seed germination rates can be very low at certain times of the year, the best time to plant by seed is late summer/early fall, therefore your window of opportunity to plant by loam seed can be limited.
Our New Lawn Installation Process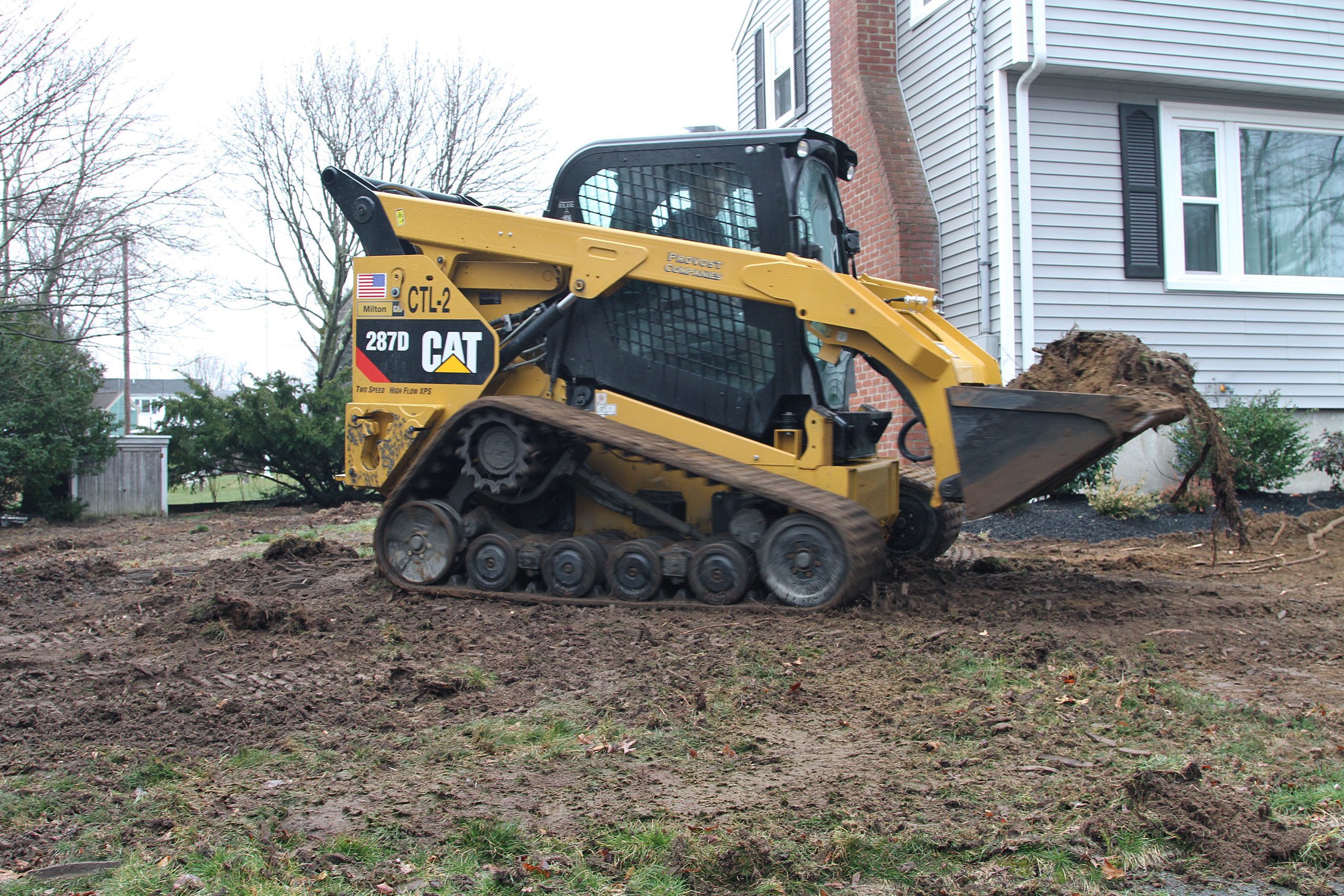 When is the best time to plant a new lawn?
In Massachusetts and New England, late summer to early fall is the absolute best time to install a new lawn. During this time of year, the soil stays warm enough for seed germination, but the cool air at night helps with nutrient absorption and is less advantageous for certain heat-loving weeds and ground diseases.
Pro Tip: One of the keys to maintaining a great lawn is a great irrigation system. Provost Companies provides irrigation system installations, repairs and maintenance. Our irrigation systems are highly efficient, and designed to keep your lawn green year-round while using as little water as possible.
Areas We Serve
WE SERVICE A 50 MILE RADIUS AROUND BOSTON INCLUDING STOUGHTON, CANTON, FOXBORO, EASTON, MANSFIELD, SHARON, NORWOOD, RANDOLPH, AVON, HOLBROOK, DEDHAM, WESTON, WELLESLEY, BOSTON, WESTWOOD, COHASSET, HINGHAM, NORWELL, DOVER, MILTON, WATERTOWN, AND MANY MORE.